Professional Tree Removal Hamilton
Whether you have overgrown branches that pose a safety risk or trees that require trimming for aesthetic purposes, our experts are equipped with the knowledge and expertise to handle the job proficiently.
While we deeply value the role of trees in our ecosystem and their positive impact on the environment, there are instances when their presence poses a risk to people and property, necessitating their removal. Some of these situations may include:
Structural Compromise
Proximity to Power Lines and Structures
Disease or Pest Infestation
Storm Damage
Light and Airflow blockage
Aesthetic Purposes
We adhere to strict safety protocols that are in line with Australian standards. Our team of skilled arborists is extensively trained in the latest safety techniques to safeguard both your property and loved ones during the process of tree trimming or tree removal Hamilton.
We value our customers and strive to build long-lasting relationships based on trust and quality workmanship. With our competitive pricing and upfront quotes, you can have peace of mind knowing you're receiving exceptional tree care services at a great value.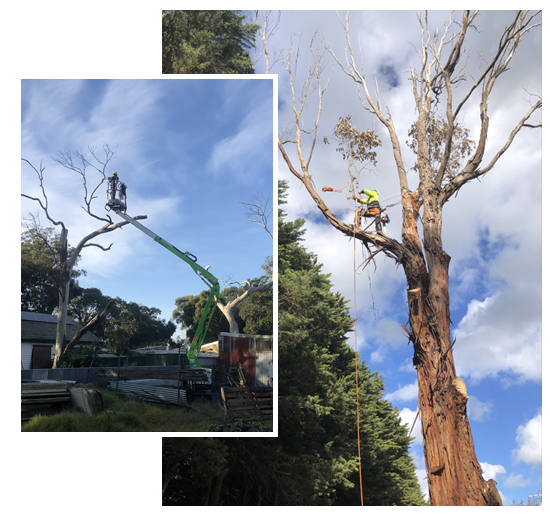 Your Trusted Tree Arborist Hamilton
As a locally owned and operated arborist company, we pride ourselves in serving the Hamilton community with our expertise and commitment. With a deep understanding of the unique challenges posed by the local climate and terrain, we offer tailored solutions to ensure the optimal health and longevity of your trees.
Our range of services includes all aspects of tree care, ensuring the health, beauty, and safety of your trees. Some of the services we offer include:
Tree Pruning: Our skilled Tree Pruning Hamilton arborists employ precise techniques to enhance tree structure, promote healthy growth, and maintain aesthetic appeal. By removing dead, diseased, or unsafe branches, we ensure the overall well-being and safety of your trees.
Tree Removal: When removal becomes necessary, our experienced team can safely and efficiently remove trees of any size or condition. We prioritise safety and employ advanced equipment to ensure smooth and seamless tree removal Hamilton.
Storm Damage Cleanup: Severe weather can cause damage to trees. Our team is equipped to handle storm damage cleanup, including removing fallen or damaged branches, debris, and trees, ensuring a safe and tidy surrounding.
Emergency Tree Work: We understand that emergencies can arise when it comes to trees. Our dedicated professionals are available to handle urgent situations such as fallen trees, unsafe limbs, or storm damage. We prioritise your safety and promptly respond to provide quick and effective emergency tree work.
Deadwooding: Deadwooding involves selectively removing weak or potentially dangerous branches from a tree. Our arborists in Hamilton employ specialised techniques to identify and remove hazardous branches, ensuring the safety of your property and preventing future risks.
Weight Reduction Pruning: Weight reduction

Tree Pruning Hamilton

is a method used to reduce the overall weight and stress on specific branches of a tree. Our experts employ careful pruning techniques to remove excess weight, improving the tree's structural stability and reducing the risk of limb failure.
Expert Tree Pruning Hamilton
Tree pruning is a vital aspect of tree care. It involves removing specific branches to improve structure, encourage healthy growth, and maintain desired tree shape.
At Highline Tree Care, our skilled arborists have the knowledge and experience to assess your trees' needs and perform precise pruning techniques tailored to their unique characteristics.
Here are some of the key benefits of our tree pruning Hamilton:
Promotes healthy growth by removing dead, diseased, or damaged branches.
Enhances the aesthetic appearance of trees, improving their overall shape and structure.
Increases sunlight penetration, encouraging better growth of other plants beneath the tree.
Improves air circulation within the tree canopy, reducing the risk of fungal diseases.
Reduces the risk of falling branches or limbs, enhancing safety for people and property.
Encourages the development of strong and sturdy branches, preventing weak or crossing growth.
Allows for better access to sunlight and nutrients, supporting overall tree health.
We utilise specialised tools and equipment to perform tree pruning Hamilton & Tree removal Hamilton efficiently and safely. From hand pruners for delicate cuts to chainsaws for larger branches, we have the right tools to handle any pruning project, big or small. We prioritise safety in every project, following strict protocols to protect your property and loved ones throughout the pruning process.
We also provide Tree Removal service in Mornington Peninsula, Warrnambool, Portland, Gisborne, Colac, Werribee.