Exploring Tree Removal Services in Gisborne
While trees add to the overall aesthetics and improve the air quality of your residential or commercial surroundings, overgrown trees can be both unsightly and a threat. If you have dead, diseased or structurally compromised trees around your property, they can pave the way for certain safety hazards, putting you, your loved ones, passersby and your property under risk.
So, if you have been looking for a safe way to clear unwanted trees, avail of our tree removal Gisborne. We are Highline Tree Care, a team of tree removal in Gisborne specialists with the expertise and tools required to handle even the most complex projects. Removing trees and preserving your landscape requires skills that DIY projects rarely bring to the picture. If not handled well, it can lead to several safety hazards. So, make way for an efficient service while giving due consideration to all safety measures with our best tree removal Gisborne Service.
How Much Tree Removal Gisborne Cost: Factors and Estimates
Tree removal cost in Gisborne will vary from project to project but there are certain factors which impact the overall cost.
The size of the tree that you wish to remove. The bigger the tree, the more complex the removal procedure would be and it will demand more equipment and labour. So, it would be costlier.
Certain trees are harder to remove than others as they might have overarching roots and therefore, your tree removal cost in Gisborne will increase.
Removing dead and diseased trees is often more dangerous and costly as they are prone to breakage.
If your tree is located close to buildings and power lines and has permit requirements, it might require special equipment, increasing the cost of tree removal services Gisborne.
At Highline Tree Care, we deliver our tree removal Gisborne Service at the best prices in the industry. Once you connect with us, we will inspect the tree to determine the scope of the service required and give a quote accordingly.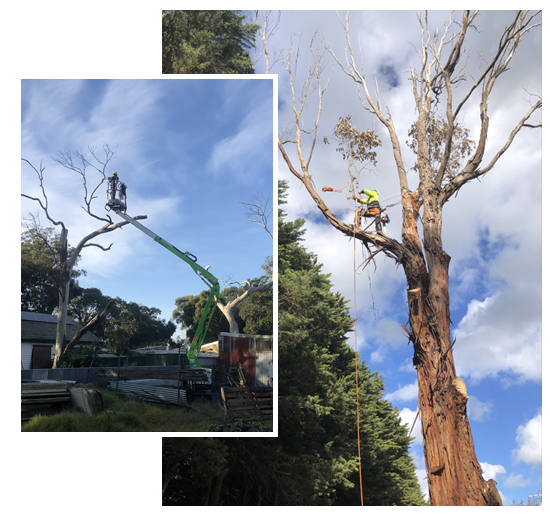 Tree Removalist in Gisborne: Your Trusted Partner
While one should refrain from cutting trees, there are certain scenarios which often make tree removal a necessity. Let's have a look at some reasons which makes tree removal Gisborne a mandatory requirement –
Dead and diseased treats can lead to several safety hazards, falling branches can potentially harm you, your property and your neighbours.
If tree roots are interfering with your property's foundation or your underground plumbing system, tree removal in Gisborne can be the only way to protect your property against damage.
Infested trees can contaminate the nearby trees, so it's a smart choice to remove that tree and preserve the overall landscape.
You need to make room for new construction or for a land development project.
Overgrown trees can compromise the overall aesthetics of your property, so, a tree removal Gisborne can be key to improve its curb appeal.
Overgrown trees can also block sunlight and air and hamper the growth of nearby vegetation. So, tree removal can be key to creating a positive and healthy environment.
If you have invasive trees in your neighbourhood, removing them can be a surefire way to protect the native species.
So, whatever the reason might be, you can expect us to deliver the required services. To know more, connect with us today.
Professional Tree Removal Gisborne: The Process
At Highline Tree Care we follow a fully streamlined procedure to ensure the tree removal process is successfully undertaken without any roadblocks. Irrespective of the scope of work involved, we will send in the best team and offer flawless tree removal Gisborne Services. Our process includes:
Assessment to understand the scope of work including tree health, size and the nearby environment.
Developing the most appropriate tree removal plan.
Checking local regulations and obtaining any necessary permits.
Implement safety measures to safeguard the life of everyone involved including the nearby residents. Our Gisborne tree removalists will come equipped with all safety gears.
We will undertake the tree removal procedure with the utmost caution and keep any associated risks at bay.
We will clean the site to remove any debris and make way for a satisfactory experience.
So, hire our professional tree removal Gisborne and secure comprehensive assistance.
Best Tree Removal Service in Gisborne: Your Ultimate Guide
When looking for a tree removal Gisborne, you need to partner with a team that will collaborate with you from start to end and complete your project without any hindrances. At Highline Tree Care we have years of experience handling even the most complex tree removal procedures with the utmost professionalism. As a team offering the best tree removal service in Gisborne, we use the latest equipment and follow industry-best practices to ensure safe tree removal in Gisborne. Whether it's a small tree or a large, hazardous one, we have the expertise and experience to handle it. From helping you secure the necessary permits to conducting a thorough threat analysis, we will conduct it all to ensure a smooth procedure.
As licensed Gisborne tree removalists, we will work as per the Australian safety standards and guidelines and ensure safe and legally compliant services. With us, you will always have a peace of mind that a reliable team will take care of your tree removal needs.
Tree Stumps Removal Gisborne: Completing the Job
When you choose us for your tree removal Gisborne, you sign up for end-to-end project management. We don't believe in leaving the job half done, we will even remove the stumps to make way for complete tree removal. So, we won't be simply cutting down the trees but clearing the entire area to make space for your choice of developments. Our tree stump removal services are delivered by expert hands, so you will never have to worry about damaging the nearby vegetation or underground power/plumbing lines.
To know more about our tree stump removal in the Gisborne area or other service, connect with us today. We also provide Tree Removal service in Mornington Peninsula, Warrnambool, Portland, Hamilton, Colac, Werribee.