Expert Tree Removal Warrnambool Service
Highline Tree Care is your trusted partner in tree removal in Warrnambool. With our team of highly skilled arborist Warrnambool and modern equipment, we are dedicated to providing safe and efficient tree care solutions for residential and commercial clients in Warrnambool. Whether you require tree removal Warrnambool, pruning, or other related services, we have the knowledge and experience to meet your needs.
Tree Removal in Warrnambool
When it comes to tree removal Warrnambool, Highline Tree Care is the company to rely on. We understand that tree removal can be a challenging task that requires expertise and precision. Our arborists are trained in the latest techniques and equipped with the right tools to safely remove trees of any size, even in complex situations. We prioritise safety and take every precaution to protect your property and surrounding vegetation during removal. Whether you have a dead or hazardous tree or need to clear space for a construction project, our professional tree removal Warrnambool services meet your specific requirements.
Tree Pruning in Warrnambool
Maintaining the health and appearance of your trees is essential, and proper tree pruning plays a crucial role in achieving the same. At Highline Tree Care, we offer expert Tree Removal Warrnambool to enhance the beauty and longevity of your trees. Our certified arborist Warrnambool understand the science behind tree pruning and apply industry-approved techniques to remove dead or diseased branches, improve tree structure, and stimulate healthy growth. Our meticulous approach ensures that your trees receive the necessary care and attention they deserve.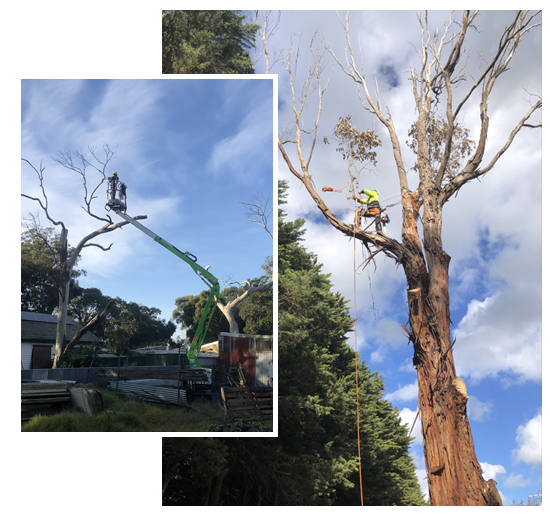 Professional Tree Pruning Warrnambool
Highline Tree Care offers a one-stop destination for professional tree pruning services in Warrnambool. With our team of skilled arborists and years of experience in the industry, we are dedicated to providing top-notch tree-trimming solutions that enhance your trees' health, safety, and aesthetics.
At Highline Tree Care, we understand the importance of regular tree pruning Warrnambool. It not only maintains the structural integrity of the trees but also promotes their overall growth and vitality. Our trained arborist Warrnambool possess the knowledge and expertise to assess your trees' specific needs and tailor our pruning techniques accordingly.
Give your trees the care they deserve with Highline Tree Care's expert Tree Removal Warrnambool. Contact us today for a consultation, and let us help you maintain your trees for years.
Top-Rated Tree Trimming Services in Warrnambool
Highline Tree Care offers professional tree trimming services in Warrnambool to help you maintain your trees' health, beauty, and safety. With our team of skillful arborists and the latest techniques, we deliver top-quality tree care solutions to our valued clients.
Tree Trimming in Warrnambool is an essential aspect of tree maintenance. Regular trimming enhances the aesthetic appeal of your landscape and promotes healthy tree growth, improves air circulation, and prevents potential hazards. Our certified arborist Warrnambool have extensive knowledge of tree species in the area and employ industry-leading techniques to ensure the best results for your trees.
We prioritise the safety of our clients and their properties throughout our Tree Removal Warrnambool. Our team follows strict safety protocols and uses modern equipment to ensure efficient and secure trimming practices. We have the necessary insurance, providing peace of mind knowing that your property is safe during trimming.
We also provide Tree Removal service in Mornington Peninsula, Portland, Hamilton, Gisborne, Colac, Werribee.