Tree Removal Werribee: Understanding the Basics
When it comes to creating a safe and positive neighborhood and preserving the health of your trees, tree care is essential. Trees are a great addition to any residential or commercial property; they enhance the beauty of any landscape, improve the air quality and offer several other environmental benefits but sometimes tree removal can be necessary. It can be a necessary evil that can restore the peace and safety quotient of your property. For instance, if overgrown trees are becoming a threat to you and the passersby, tree removal in Werribee can be key to ensuring everyone's safety. This and several other scenarios necessitates tree removal. So, whatever the reason might be, if you are looking for expert tree removal Werribee, connect with our team at Highline Tree Care today. To know more about our services and why tree removal can be your option, reach out to our experts.
Tree Removal Werribee Service: What You Need to Know
Tree removal is not always legally compliant and there are certain rules and guidelines which regulate tree removal Werribee. But there are some reasons why tree removal can be essential –
Dead or decaying trees compromising the safety of your neighbourhood.
Overarching tree roots damaging your foundation or utility lines.
Infested trees contaminating the nearby trees or vegetation.
To make room for construction of land development projects.
Overgrown trees bring down the curb appeal of your property and limit the flow of air and sunlight.
Remove invasive species to promote the growth of native flora and fauna.
So, there could be not one but several reasons why you wish to engage with tree removal Werribee. Connect with us and make way for a flawless service delivery.
Tree Removal Werribee Cost: Factors and Estimates
The exact cost of tree removal in Werribee depends on several factors and vary from project to project –
Tree size
Tree heath (removing dead and decaying trees could be more dangerous)
Tree species (as certain trees are more dense and have complex root structures)
Location (if the tree is located close to building or power lines)
Equipments required
Seasonal factors (harsh weather conditions can increase the cost)
At Highline Tree Care we deliver our tree removals services in Werribee at the best prices in the industry. So, with us you will never have to worry about paying extra for the availed services.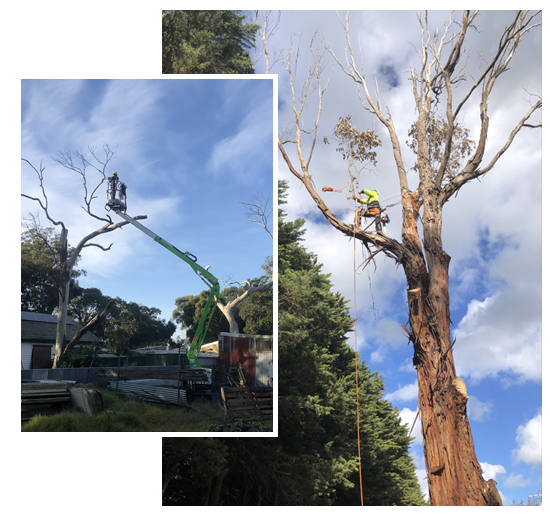 Tree Stump Removal Werribee: A Crucial Step
When engaging in tree removal Werribee, only cutting down the tree is a job half way done, you also need to remove the stump for an effective and efficient service. Tree stump removal in Werribee can be a complex affair, especially so if the stump is located close to utility lines. But for us it's an easy feat as we are equipped with the best equipment and versed in all innovative tree removal methods. Once you hire out tree stump removal in Werribee, we will send it to the best team, make way for an inspection and deliver the needed services.
Meet the Werribee Tree Removalist: Your Trusted Partner
When it comes to tree removal Werribee or any other area, DIY is never a good option. Without the right safety gear and precautionary measures, you will put yourself at risk and end up spending more than what you intended to save. So, professional tree removal Werribee is a cost effective option that will ensure a safe and effortless service while ensuring complete legal compliance. At Highline Tree Care we are versed in all safety measures and make sure to undertake the task without putting anyone at risk. So, we are your trusted tree removal partners in Werribee and a team you can always count on for the best tree removal service in Werribee.
Professional Tree Removal Werribee: The Process
As a team delivering the best tree removal Werribee, we follow a fully streamlined procedure to leave no room for errors of any kind. We will –
Conduct an assessment to determine the scope of the services required.
Determine any associated risks and safety hazards and plan our services around them.
Check local regulations and get all the necessary permits.
Bring in all the equipment and employ all required safety measures.
Undertake the service and clear the site of any debris.
Conduct an inspection and ensure the service was delivered to perfection.
For us, the satisfaction of our clients takes the utmost priority. We will be sure to give you your money's worth and deliver a satisfactory service.
Tree Stumps Removal Werribee: Completing the Job
At Highline Tree Care we will assist you from start to finish and ensure the job is done without any roadblocks. We use the latest equipment and follow industry-best practices to ensure safe tree removal Werribee. Whether it's a small tree or a large, hazardous one, we have the expertise to handle it. We always detect the safety hazards involved and develop an action plan that best addresses them. Before undertaking the tree removal service in Werribee, we will secure the area and prevent the risk of any accidents. Whether you avail of our complete tree removal Werribee or tree stump removal in Werribee, you can expect 360-degree assistance.
Best Tree Removal Service in Werribee
Connect with us at Highline Tree Care and make way for the best tree removal service in Werribee. Our expertise and experience promises a satisfactory service every time, irrespective of the scope of the project. So, if you have been looking for a safe, efficient and legally compliant tree removal service, reach out to us and schedule an appointment.
We also provide Tree Removal service in Mornington Peninsula, Warrnambool, Portland, Hamilton, Gisborne, Colac.